I began writing at 14. Back then I wrote embarrassingly bad rap songs, which were often repetitive and were imitations of far more competent lyricists.
What amazes me now, though, is how consistent I used to be. Back then I would come home from school, sit in front of Microsoft Word for an hour and mash out a few verses and a chorus — every single line ending in rhyme.
But whenever I tried to pen lyrics into a notebook, I could never finish a song. None of the words ever looked right on paper. Rhymes did not come so easily, and every line felt forced.
Flash forward 11 years to now, I most enjoy drafting poetry by hand. In fact, pen and paper has become my favourite method of drafting anything creative.
In all the years I've been writing, never have I worked out what process works best for me. Whenever I think I've found an answer my system breaks, and I lose the habit once again.
That's where I'm currently at as a writer, trialling new ways of working and seeing if it sticks or breaks. And if it does break, rather than abandoning it altogether and stalling my writing habit, I'm going to see what I can fix.
Part of this trial process is spending more time with a pad and pen. I'm finding it a lot more enjoyable than sitting in front of my laptop all day.
There's something too clean about drafting a piece of writing digitally. Bad writing reads so much worse on a screen than on paper (IMO). The temptation to delete what you've written is too strong. You can too easily erase your mistakes out of existence.
Whereas on paper, even if you scribble a word out so thoroughly to be illegible, the mistake continues to live on the page. And there's something beautiful about the chaotic mess of the drafting process.
If writing with a keyboard hasn't been working for you as of late, I'd recommend trying the old-school approach. Get yourself a notebook. It doesn't have to be fancy — in fact, if it's too fancy it might put you off writing in it. Just find a notebook that feels good to open and invites you to mess up its pages.
Furthermore, a by-product of writing by hand is that it feels more productive.
I have nearly filled all four of those journals pictured above. I only started daily journaling in October last year. Maybe it's just me but being able to hold the words I've written in my hand feels much more satisfying and substantial than a word counter with a bunch of zeroes.
Drafting on the same computer you use to check emails, binge YouTube and Netflix, read articles and video call your friends also invites procrastination (in my experience). Why focus on the tab with my writing when I can quickly open another one and do something else?
When I write on paper, however, I'm finding it easier to focus on the page in front of me. My mind still drifts, and I'm not entirely immune to distraction. But at least with the page open, I know what I'm meant to be doing and can find my way back to what I was working on.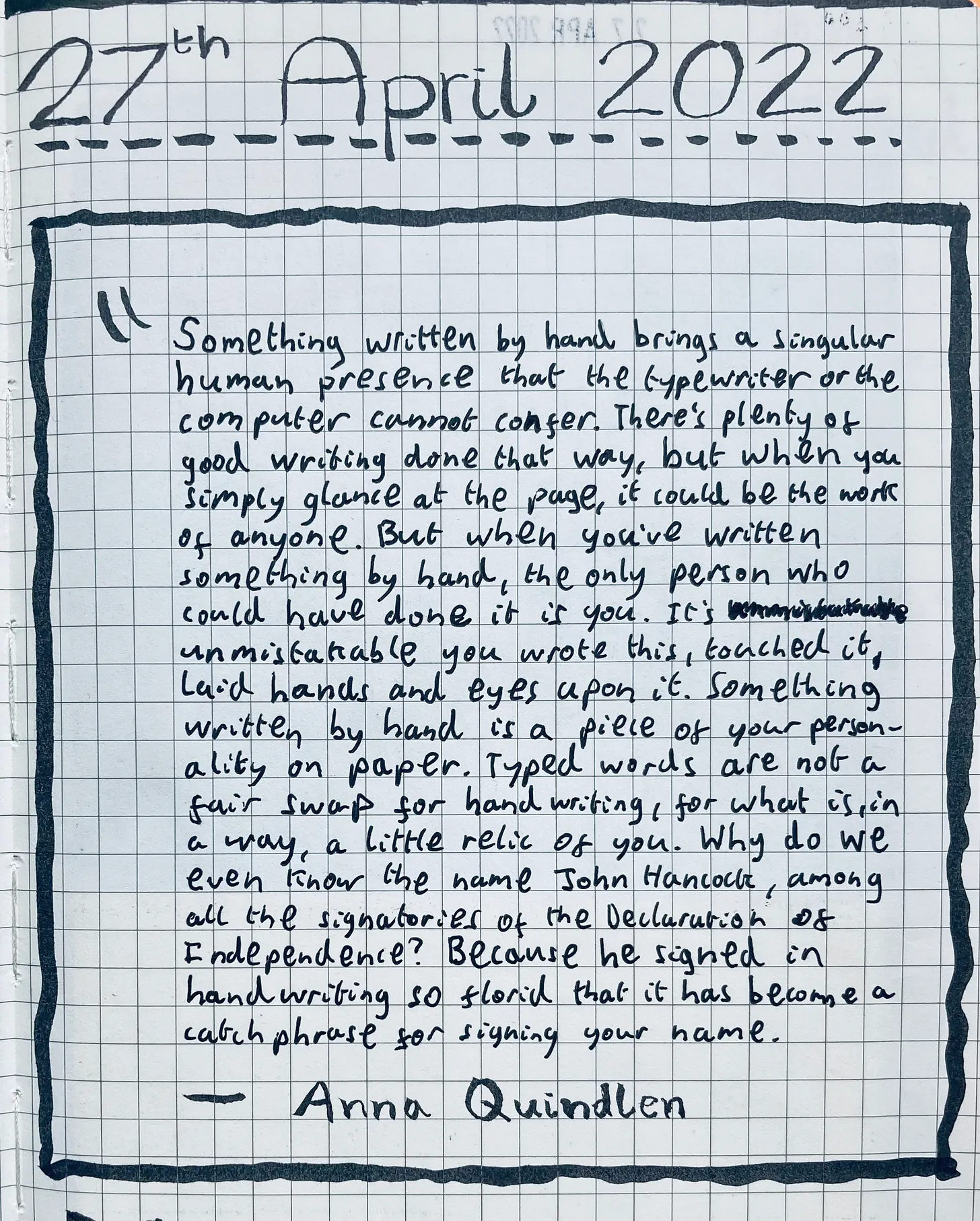 I'm also experimenting with different kinds of journals. I've discovered I'm not a huge fan of notebooks with gridlines, although I know it works for some.
On its way in the post is the next journal I'm trialling: a LEUCHTTURM1917 hardback notebook with numbered blank pages. My hope is that writing onto blank pages might result in something more visually appealing.
I've also changed how I bullet journal. I wrote a post earlier this year about how I set up my BuJo for 2022, but it's very different now.
Pictured above is my current approach. I now set up weekly logs and fill the days in as I go, keeping it all in view across two double-page spreads.
Between this new approach and my old approach, I also trialled the rolling weekly spread as recommended by Plant Based Bride on YouTube. Whilst I found this a big improvement on what I had been doing, I still found it limited and wasn't helping me stay on top of tasks like I had hoped it would.
My current approach is still new, so it's too early to say how beneficial this will be going forward. I am finding that these spreads do take longer to initially set up as they're much more meticulous, but they save time throughout the week overall.
Most of what happens in my day is now logged in the weekly overview to keep it all in one place.
However, I do sometimes write daily logs if I want to record any random thoughts or feelings. I try to reserve longer thoughts and ideas for my daily diary, whilst the daily log is more useful when I want to record something short.
For example, I noted above that someone I know shared a particular meme to their Instagram story at around the same time the exact same meme was going through my head. I thought it was funny, so I decided to record it in a daily log.
The daily logs are also good for the mundane thoughts I want to get on paper but not occupy space in my diary. I'd rather not fill my journal with repetitive writer's block troubles, but I figure it's worth recording my anguish in these logs as a reflection of how I felt at that time.
Something I've also done away with for my BuJo is a strict key for what every symbol means. Instead, I've decided to be flexible with how I visually represent a task or event. It makes the journaling process more enjoyable and easier to look back over. It also means I don't have to keep editing my key when I decide I don't like a symbol I'm using.
This was also the inspiration for including more emojis in my newsletter. I wanted to jazz it up and make each issue more visually appealing, whilst also clearly indicating different types of content for those who like to skim read.
The newsletter has undergone some changes recently, and it's entirely likely I'll change my approach again going forward. I want to keep experimenting until I find something I love enough to stick with whilst also delivering valuable content for those of you who are subscribed. Hence why my next newsletter does away with a bulleted list of recommendations and instead dedicates a whole section to each thing I wanted to talk about.
I'm also going to try and use this blog more often. I want to try and embrace the rougher nature of blogging and worry less about unpolished posts.
Of course, all of this is subject to change. That's the nature of trialling lots of different processes.
Hopefully, though, this time when my process breaks, I'll find a way to fix it.